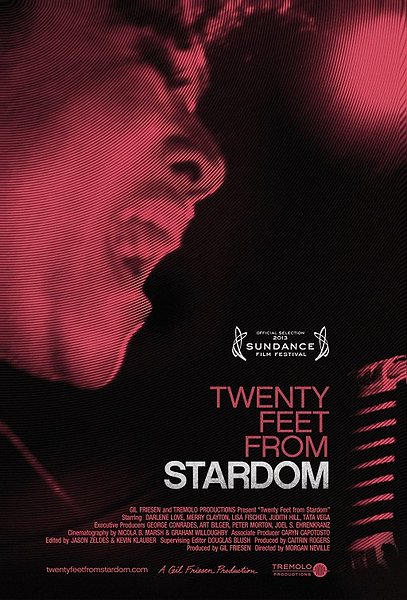 20 Feet from Stardom
Rated [PG-13] / 90 minutes
Tuesday, January 7, 2014
12:00 (Noon) and 7:00 p.m.
Veteran director Morgan Neville has made a moving and joyous behind-the-scenes documentary about a world filled with big, bold personalities and the music they make. These women (and they are mostly women) sing in a way that is transformative for us and, it turns out, for them as well.
Neville interviewed more than 50 people for this film, including articulate major stars like Mick Jagger, Stevie Wonder, Bruce Springsteen and Sting, but the people with the stories and personalities you remember turn out to be the handful of women who made and remade the backup world in their image. When you say names like Darlene Love, Merry Clayton and Lisa Fischer, you are conjuring up entire universes of sound.
In the early years of pop music, backup singers were usually white, a situation that changed in the 1960's when Love and the Blossoms broke the color barrier, singing with everyone from James Brown to Frank Sinatra and putting an intensity of feeling into their work that was new to the field.
Both Love and Clayton made stabs at solo careers, but as "Twenty Feet" makes clear, whether those attempts succeed are as much a function of intangibles as anything specific. In some ways the film's most memorable singer is Lisa Fischer, who made the break and then went back. For her background singing seems to function as a kind of higher calling and the grace of "Twenty Feet" is that it allows you to see why.